---

The Accu-Hold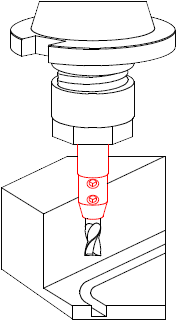 The MOST precise extension holder you have ever used.
Concentric within .0003; Hole size is plus .00015 and minus Zero.
Improves rigidity, concentricity, and coolant effectiveness.

*The ACH1/2 and 12MM have a 1 Dia. X 1.5 long head.
**The ACH3/4, ACH1, and 18MM have a 1-1/4 Dia. X 2-1/4 long head and the holes are only 2" deep.
---
Accu-Hold ACH Series
Fractional
Hole
Size
Cut
Dec
Shank
OAL
Screw
Size
Price
US$

Fractional

Qty

Buy

3/32
.0937
3/8
2 1/4
5-40
$171.50
1/8
.1250
3/8
3 1/4
8-32
$181.30
1/8
.1250
3/8
6
8-32
$269.50
5/32
.1562
1/2
3 1/2
8-32
$156.80
3/16
.1875
1/2
3 1/2
8-32
$156.80
3/16
.1875
1/2
5
8-32
$191.10
1/4
.2500
5/8
4 1/4
10-32
$166.60
1/4
.2500
5/8
6
10-32
$196.00
5/16
.3125
3/4
4 1/2
1/4-28
$181.30
3/8
.3750
3/4
4 1/2
5/16-24
$191.10
3/8
.3750
3/4
6
5/16-24
$220.50
7/16
.4375
3/4
4 1/2
5/16-24
$205.80
1/2
.5000
1
4 3/4
3/8-24
$269.50
1/2
.5000
3/4
4 3/4
3/8-24
$245.00
1/2
.5000
1
6
3/8-24
$289.10
9/16
.5625
1
5 1/4
3/8-24
$289.10
5/8
.6250
1
5-1/2
3/8-24
$289.10
3/4
.7500
1
5 1/4
7/16-20
$333.20
3/4
.7500
1 1/4
6
7/16-20
$343.00
1
1.000
1
5 1/2
7/16-20
$465.50
Metric
Hole
Size
Cut
Dec
Shank
OAL
Screw
Size
Price
US$

Metric

Qty

Buy

3MM
.1181
3/8
3 1/4
6-32
$181.30
4MM
.1575
1/2
3 1/2
8-32
$166.60
5MM
.1968
1/2
3 1/2
10-32
$166.60
6MM
.2362
5/8
4 1/4
10-32
$171.50
7MM
.2756
5/8
4 1/4
10-32
$220.50
8MM
.3149
3/4
4 1/2
1/4-28
$181.30
9MM
.3543
3/4
4 1/2
5/16-24
$235.20
10MM
.3937
3/4
4 1/2
5/16-24
$210.70
11MM
.4331
3/4
4 1/2
5/16-24
$254.80
12MM
.4724
1
4 3/4
3/8-24
$249.90
12MM
.4724
3/4
4 3/4
3/8-24
$240.10
13MM
.5118
1
4 3/4
3/8-24
$279.30
14MM
.5512
1
5 1/2
3/8-24
$279.30
15MM
.5905
1
5 1/2
3/8-24
$298.90
16MM
.6299
1
5 1/2
3/8-24
$294.00
18MM
.7086
1
5 1/4
7/16-20
$308.70
20MM
.7874
1
6
7/16-20
$333.20
20MM
.7874
1 1/4
6
7/16-20
$333.20
25MM
.9842
1
6 1/2
7/16-20
$465.50