---
New Tech
SUPERBEE®
Large Concave Corner Rounding Radius Cutter
Corner Rounding Carbide Cutters Made in America
Patented indexable design breaks up a large radius into segments, reducing tool Pressure and allowing for 2-10 times faster feeds. Over 40 different Radius sizes available including metric and fractional sizes.
Order Example:
If you purchase
SUPERBEE®
cutter BC5621980C500 you will want to purchase insert EC19C500 or EC19C512. There might be more then 1 possible tool combination to make the same cut.
Patented geometry breaks 90 degree arc into smaller segments for smoother, faster cutting.
Patent Number 6,053,673
If you need assistance selecting the correct tool and insert please give us a call.
---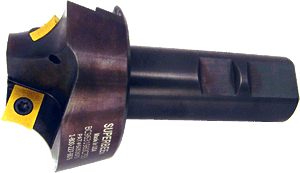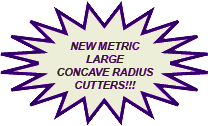 ---
Large Concave Corner Rounding Radius Cutters
1.000" Shank Cutter 2 Flute, using EC15 inserts
BC Series
use EC15 insert
Radius
D
di
L1
L2
EC15 Insert Range
Price
US$

BC Series
use EC15 insert

Qty

Buy

0.250 - 0.280
1.250
0.750
4.500
1.250
EC15
C250 - C280
$237.50
0.281 - 0.311
1.312
0.750
4.500
1.250
EC15
C281 - C311
$237.50
0.312 - 0.342
1.375
0.750
4.500
1.250
EC15
C312 - C342
$237.50
0.343 - 0.374
1.437
0.750
4.500
1.250
EC15
C343 - C374
$237.50
0.375 - 0.405
1.500
0.750
4.500
1.250
EC15
C375 - C405
$237.50
1.000" Shank Cutter 2 Flute, using EC19 inserts
BC Series
use EC19 insert
Radius
D
di
L1
L2
EC19 Insert Range
Price
US$

BC Series
use EC19 insert

Qty

Buy

0.406 - 0.436
1.687
0.875
5.000
1.750
EC19
C406 - C436
$260.82
0.437 - 0.467
1.750
0.875
5.000
1.750
EC19
C437 - C467
$260.82
0.468 - 0.499
1.812
0.875
5.000
1.750
EC19
C468 - C499
$260.82
0.500 - 0.530
1.875
0.875
5.000
1.750
EC19
C500 - C530
$260.82
1.250" Shank Cutter 3 Flute, using EC15 inserts
BC Series
use EC15 insert
Radius
D
di
L1
L2
EC15 Insert Range
Price
US$

BC Series
use EC15 insert

Qty

Buy

0.531 - 0.561
2.312
1.250
5.000
1.750
EC15
C531 - C561
$276.65
0.562 - 0.592
2.375
1.250
5.000
1.750
EC15
C562 - C592
$276.65
0.625 - 0.655
2.500
1.250
5.000
1.750
EC15
C625 - C655
$276.65
1.250" Shank Cutter 3 Flute, using EC19 inserts
BC Series
use EC19 insert
Radius
D
di
L1
L2
EC19 Insert Range
Price
US$

BC Series
use EC19 insert

Qty

Buy

0.656 - 0.686
2.812
1.500
5.000
1.750
EC19
C656 - C686
$362.22
0.687 - 0.717
2.875
1.500
5.000
1.750
EC19
C687 - C717
$362.22
0.718 - 0.749
2.937
1.500
5.000
1.750
EC19
C718 - C749
$362.22
0.750 - 0.780
3.000
1.500
5.000
1.750
EC19
C750 - C780
$362.22
0.781 - 0.811
3.062
1.500
5.000
1.750
EC19
C781 - C811
$362.22
0.812 - 0.842
3.125
1.500
5.000
1.750
EC19
C812 - C842
$362.22
1.250" Shank Cutter 4 Flute, using EC19 inserts
BC Series
use EC19 insert
Radius
D
di
L1
L2
EC19 Insert Range
Price
US$

BC Series
use EC19 insert

Qty

Buy

0.875 - 0.905
3.500
1.750
5.250
2.000
EC19
C875 - C905
$394.91
0.906 - 0.936
3.562
1.750
5.250
2.000
EC19
C906 - C936
$394.91
0.968 - 0.999
3.687
1.750
5.250
2.000
EC19
C968 - C999
$394.91
1.000 - 1.031
3.750
1.750
5.250
2.000
EC19
C1000 - C1031
$441.86