---
New Tech
SUPERBEE®
Concave EM15 C1-C2 Inserts
Corner Rounding Carbide Made in America
Order Example:
If you needed a 3/4" tool to cut a .090" concave radius then the tool and insert would be:
BE4811548 with C2 Radius Option. This tool is 0.750" with a radius insert range of .070" - .125".
E15C090 insert. This is a .090" radius insert for EM15 tools with C2 radius option. There might be more then 1 possbile tool combination to make the same cut.
If you need assistance selecting the correct tool and insert please give us a call.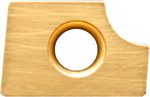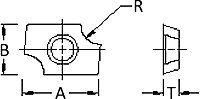 Inserts for concave Radii .170 and above are single ended. Left hand, metric sizes, and specials available on request.
Please specify the Grade and Hone in the drop down box.
New T5700 Grade
Our new proprietary T5700 grade is the first true do-it-all grade. It outperforms AlTiN in steel applications, and outperforms TiCN in Stainless and higher wear applications. T5700 must be run at 15% higher surface footages than the previous coating technology, and you will see significant gains in tool life!
---
EC15 Concave Inserts
A = 0.500" B = 0.375"
EC15
Cut
Dec
Radius

EC15

Grade - Hone
E = Honed Edge
F = Sharp Edge

Qty

Buy

0.250
1/4
0.276
7MM
0.281
9/32
0.313
5/16
0.315
8MM
0.344
11/32
0.354
9MM
0.375
3/8
0.394
10MM
0.531
17/32
0.551
14MM
0.562
9/16
0.591
15MM
0.625
5/8
0.630
16MM
EC19 Concave Inserts
A = 0.625" B = 0.500"
EC19
Cut
Dec
Radius

EC19

Grade - Hone
E = Honed Edge
F = Sharp Edge

Qty

Buy

0.406
13/32
0.433
11MM
0.438
7/16
0.469
15/32
0.472
12MM
0.500
1/2
0.512
13MM
0.656
21/32
0.669
17MM
0.688
11/16
0.709
18MM
0.719
23/32
0.748
19MM
0.750
3/4
0.781
25/32
0.787
20MM
0.813
13/16
0.826
21MM
0.843
27/64
0.866
22MM
0.875
7/8
0.906
23MM
0.937
15/16
0.944
24MM
0.948
25MM
0.968
31/32
1.000
1